Zebra HD4000 Enterprise Head-Mounted Display
Developed in collaboration with Six15 Technologies, a leader in wearable optical displays, the HD4000 delivers unmatched color, contrast and image clarity, plus a focal distance that is optimized for head-mounted applications to minimize eye fatigue.
The accessory architecture eliminates the need for an integrated battery, processor and wireless radios. Only components required to deliver augmented reality functionality are required — a display, camera, head tracker and microphone. As a result, the HD4000 weighs about an ounce — significantly lighter than any other enterprise wearable display.
Scope:
manufacturing

retail

field mobility

warehouse management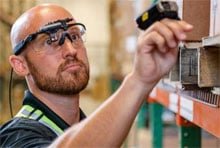 Technical specifications:
Display
Full Color OLED 640 x 400 Pixels
Field of view
20.3' Diagonal
Eye Box
7.5 X 9mm
Eye Relief
18mm
Brightness
300 cd/m^2
Camera
5 MP, Fixed Focus
Head Tracker
9-axis integrated sensor