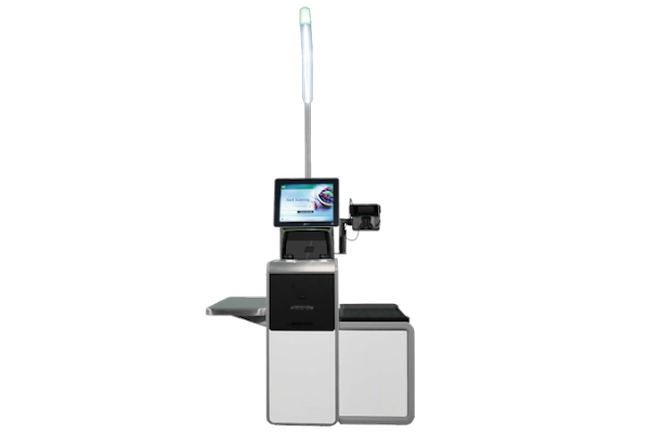 NCR FastLane SelfServ™ Checkout R6N
Maximize floor space while creating a fast and easy checkout experience with our compact, card-only self-checkout.
Your customers expect the shopping experience to be fast and easy, and self-service helps you deliver just that. NCR's FastLane SelfServ Checkout R6N is our sixth-generation solution built on more than 20 years of global self-checkout excellence. The R6N features a compact footprint that supports both credit and debit combined with bi-optic imaging technology. This enhances security and customer convenience while its intuitive user interface makes it easy to use.
The NCR FastLane SelfServ Checkout R6N not only helps you conserve space at the checkout, but it also saves money on your IT hardware investment because it supports only debit and credit payments. The R6N offers optional bagging, or packing areas, with weight-based security that can accommodate one to three bags to best fit the needs of your stores. The R6N is compatible with the intuitive NCR FastLane application software to deliver a complete self-checkout solution. It includes theft deterrents such as an integrated security scale, a sophisticated self-learning and adjusting weight database, intervention lights and sounds and attendant-monitoring tools.
Compact footprint with support for debit and credit payments
Optional bagging/packaging areas designed with weight-based security
High bright multi-touch display with edge-to-edge glass
Intuitive FastLane Release 6 application software
Support for 1D, 2D and mobile bar codes with the RealScan™ 79e bi-optic imager
Enhanced security and shopper convenience with optional NCR Produce Assurance and Picklist Assist software
Multiple unload and bagging modules to accommodate any retail environment
Input shelf
1, 2 or 3 bagging options with security scale
Swappable lane orientation
Color branding
Multiple language support
Integrated scale for produce