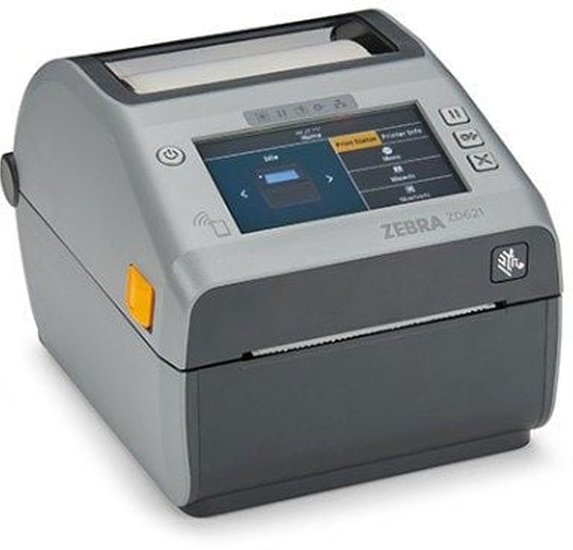 Zebra ZD620 Series Desktop Printers
When print quality, productivity, application flexibility and management simplicity matter, the Zebra ZD620 delivers. As the next generation in Zebra's desktop printer line, the ZD620 replaces Zebra's popular GX Series and ZD500 printers, rising above conventional desktop printers with premium print quality and state of the art features. Available in both direct thermal and thermal transfer models, the ZD620 meets a wide variety of application requirements. It offers the most standard features of any Zebra desktop printer, including an optional 10-button user interface with a color LCD that takes all the guesswork out of printer setup and status. The ZD620 runs Link-OS and is supported by our powerful Print DNA suite of applications, utilities and developer tools that deliver a superior printing experience through better performance, simplified remote manageability and easier integration. The Zebra ZD620 — delivering the powerful print speed, print quality and printer manageability you need to keep your operations moving forward.
The ZD621 delivers next-generation, best-in-class features – along with outstanding print quality and forward adaptability – for years of hassle-free printing. Available in thermal transfer and direct thermal models, it offers an optional full-color touch display. Increased remote management capabilities help you optimize your printers, track and automate supplies replenishment and ensure security.
Zebra's ZD621 healthcare desktop printers are built specifically for healthcare environments. Available in the preferred healthcare white color, they feature disinfectant-ready plastics, UV-resistant housing and a sealed-button interface that make them easy to sanitize. They include a medical-grade power supply that's IEC 60601-1 compliant. Access the new intuitive menu with the press of a finger using the new 4.3-inch, full-color LCD touch display that comes standard on all ZD621 healthcare printers. And, enjoy peace-of-mind with Zebra's unmatched printer security to help safeguard sensitive data, including patient information.
The ZD621R gives you best-in-class features and forward flexibility for years of superior RFID printing and encoding – without complication. Featuring Zebra's own RE40 RFID module and adaptive encoding technology, it supports a broad range of applications, is simple to calibrate and allows for excellent media flexibility. It comes standard with the new 4.3-inch, full-color LCD touch display with intuitive menu and wizards that make it easy to setup and use. Part of Zebra's broad RFID portfolio, the ZD621R gives you industry-leading reliability and performance.
Scope:
ZD620 TT & ZD620 DT
transportation

manufacturing
ZD620-HC TT & ZD620-HC DT
ZD621 TT & ZD621 DT
transportation

manufacturing

retail

warehouse management

hospitality
ZD621-HC TT & DT
ZD621R RFID
healthcare

manufacturing

retail

hospitality
Technical specifications
Print Width
ZD620 TT & DT
4.09 in./104 mm for 203 dpi
4.27 in./108 mm for 300 dpi
ZD620 HC
4.09 in./104 mm for 203 dpi
4.27 in./108 mm for 300 dpi
ZD621 TT & DT
4.09 in./104 mm for 203 dpi
4.27 in./108 mm for 300 dpi
ZD621-HC TT & DT
4.09 in./104 mm for 203 dpi
4.27 in./108 mm for 300 dpi
ZD621R
4.09 in./104 mm for 203 dpi
4.27 in./108 mm for 300 dpi
Maximum print speed
ZD620 TT & DT
8 in./203 mm per second (203 dpi)
6 in./152 mm per second (300 dpi)
ZD620 HC
8 in./203 mm per second (203 dpi)
6 in./152 mm per second (300 dpi)
ZD621 TT & DT
8 in./203 mm per second (203 dpi)
6 in./152 mm per second (300 dpi)
ZD621-HC TT & DT
8 in./203 mm per second (203 dpi)
6 in./152 mm per second (300 dpi)
ZD621R
8 in./203 mm per second (203 dpi)
6 in./152 mm per second (300 dpi)
Communication methods
ZD620 TT & DT
USB v2.0 (Standard)
Bluetooth Low Energy (Standard)
RS-232 Serial (Standard)
10/100 Ethernet (Standard)
Wireless: 802.11ac with Bluetooth 4.1 (Factory installed option)
ZD620 HC
USB v2.0 (Standard)
Bluetooth Low Energy (Standard)
RS-232 Serial (Standard)
10/100 Ethernet (Standard)
Wireless: 802.11ac with Bluetooth 4.1 (Factory installed option)
ZD621 TT & DT
USB v2.0, USB Host (Standard)
Bluetooth Low Energy 5* (Standard)
RS-232 Serial (Standard)
10/100 Ethernet (Standard)
Wireless: 802.11ac with Bluetooth 4.1 (Factory- or field-installed option)
* BLE intended for use with Zebra printer setup mobile app only
ZD621-HC TT & DT
USB v2.0, USB Host (Standard)
Bluetooth Low Energy 5* (Standard)
RS-232 Serial (Standard)
10/100 Ethernet (Standard)
Wireless: 802.11ac with Bluetooth 4.1 (Factory- or field-installed option)
* BLE intended for use with Zebra printer setup mobile app only
ZD621R
USB v2.0, USB Host (Standard)
Bluetooth Low Energy 5* (Standard)
RS-232 Serial (Standard)
10/100 Ethernet (Standard)
Wireless: 802.11ac with Bluetooth 4.1 (Factory- or field-installed option)
* BLE intended for use with Zebra printer setup mobile app only
Print Resolution
ZD620 TT & DT
203 dpi/8 dots per mm
Optional 300 dpi/12 dots per mm
ZD620 HC
203 dpi/8 dots per mm
Optional 300 dpi/12 dots per mm
ZD621 TT & DT
203 dpi/8 dots per mm
300 dpi/12 dots per mm (Option)
ZD621-HC TT & DT
203 dpi/8 dots per mm
300 dpi/12 dots per mm (Option)
ZD621R
203 dpi/8 dots per mm
300 dpi/12 dots per mm (Option)
Media Sensors
ZD620 TT
Full width, moveable reflective/black mark sensor;
Multi-position transmissive/gap sensor
ZD620 DT
Full width, moveable reflective/black mark sensor;
Multi-position transmissive/gap sensor
ZD620 HC
Full width, moveable reflective/black mark sensor;
Multi-position transmissive/gap sensor
ZD621 TT & DT
Full width, moveable reflective/black mark sensor;
Multi-position transmissive/gap sensor
ZD621-HC TT & DT
Full width, moveable reflective/black mark sensor;
Multi-position transmissive/gap sensor