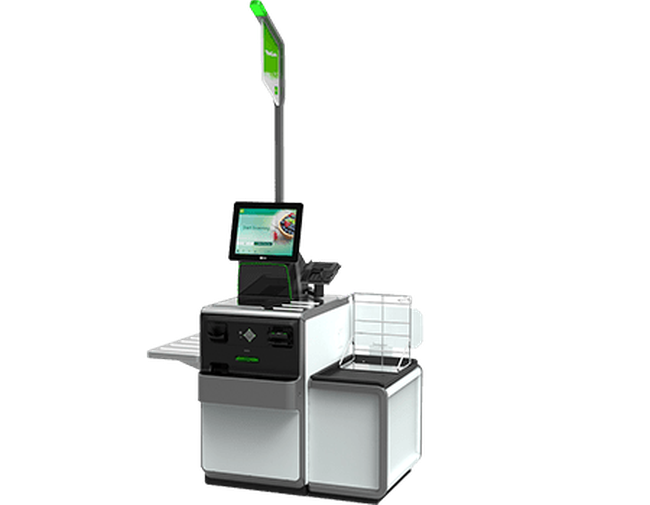 NCR FastLane SelfServ Checkout R6C
The next generation of self-checkout provides retailers with expanded cash management, full convertibility, enhanced security and fraud detection capabilities.
With its compact design and reduced profile, the R6C expands the visibility between your attendants and shoppers, giving attendants a clear line of sight to monitor all of the self-checkout lanes. The sleek zero-bezel display features a responsive touchscreen which supports multi-touch, and a new eco-friendly LED intervention light that reduces power consumption.
The note recycler allows a stack of bills to be fed into the unit instead of inserting them one at a time. This makes it faster and more convenient for your shoppers while also helping your store associates quickly replenish the recycler when needed. The global coin recycler supports nine different denominations and provides improved debris management, reducing the potential for jams. An all imaging bi-optic scanner, the RealScan™ 79e is available and it reads 1D, 2D and mobile barcodes. This advanced scanner, combined with NCR's Computer Vision Technologies, such as Picklist Assist and Produce Assurance, can help minimize shrink and streamline the checkout experience.
Global coin recycling with 8 denominations and bulk acceptance
High capacity note recycling with bunch note acceptance
Enhanced cash management capabilities
Compatible with most industry-standard payment devices including contactless
Credit and debit only configuration available
Intuitive, gesture-enabled software
Search capability for non-barcoded items
Persistent receipt displayed with gesture swipe for scrolling
Adaptive security features to help boost throughput during peak periods
Optional Computer Vision Technology solutions to help detect fraud and minimize shrink
Security scale for weight verification
Internal security door with optional electronic keypad lock
Electronic Article Surveillance (EAS) integration available for Sensormatic and Checkpoint devices
Core module that can be designed with a left or right orientation
Compact, low profile design
Multiple unload and bagging modules accommodate any retail environment
Input shelf
1, 2, or 3 bagging platforms
Color branding available
Integrated scale for produce
LED tri-light lane light indicates availability